J'ouvre ce topic qui est consacrer à des interviews donner par plusieurs acteurs en même temps.
Zap2it is spending the weekend live on the scene with the stars of "Supernatural" at Creation Entertainment's Salute to Supernatural in Los Angeles, and it seems that all of Jared Padalecki's co-stars have a bone to pick!
Kurt Fuller already shared the story of an on-set prank Jared played on him, and he's not the only one.
And on the scene at Creation Entertainment's Salute to "Supernatural" when Misha Collins discussed his character's role in the end of days.
When Misha Collins, who plays Castiel, the rogue angel, is asked about his acting techniques, he sighs. "Here's what it is. Usually it's just me, going in there, and as Jared fondles my balls, I try not to laugh. That's my approach to nuanced acting."
"When Jared and Jensen Ackles are both in a scene," he continues, "that's when it gets really hard. When you're trying to do your closeup and another actor has his foot in your crotch, it's complicated. Castiel's characterization is just me trying to muscle through being molested, honestly. It happens often. I just need to vent: argh, Jared!"
AJ Buckley and Travis Wester, who will be starring in the "Supernatural" spin-off web series, "Ghostfacers," recall a night of shooting where Padalecki randomly decided to lift Buckley off the ground and walk around with him tossed over his shoulders.
"He didn't put me down for ages. He thought it was hilarious. He was like, 'Ha ha, Jensen, look at this!' Just walking around with me on his back. He's like, 'Hee-hee, look at my little buddy!" Buckley says, sighing.
"We were just guest stars!" Wester chimes in. "We couldn't say anything! I was just sitting there praying he didn't come for me next."
It doesn't end there. Jim Beaver, who has been playing Bobby Singer on "Supernatural" for four years, has come to know both Padalecki and Ackles quite well over the years. "I feel like their slightly older brother," he jokes. "Though I could never live with Jared. I'm very sensitive to terrible smells."
"I'm really fond of both of them," he says. "I just wish I could control certain elements of Jared's diet. Limiting it to food, for example."
score; Jared Padalecki's on-set antics
And Kurt Fuller said to with working on Jared and Jensen.....
On working with "Supernatural" star Jared Padalecki: "Things can get pretty dramatic on set. It's a heavily scripted show without much room for improvisation, so they make their own fun. I had a very intense scene with Jensen Ackles. We were in each other's faces, being very serious... and suddenly Jared snuck up behind me and shot the compressed air that they used to clean the lenses up my pants leg. That was, uh... a surprise."
On being mean to Jensen Ackles' character, Dean: "Look. Jensen Ackles has everything I want. He's in great shape. He's got a full head of hair. He's got a square jawline. He's a big star! And then his character calls me a douche. So yes. Yes, I really enjoy being mean to Dean. I'd be a lot meaner if they'd let me."
more here:Kurt Fuller on Jensen Ackles and Jared Padalecki
Puls zap2it.com have Misha's interview.
"I act all high and mighty," Collins says. "I'm like, 'You guys started the apocalypse. Jerks!' But secretly, I'm kind of the one who started it."
He's referring to when Castiel, on orders from Zachariah, let Sam out of the panic room. "Look, let's not get bogged down with trivial details like who started the end of the world!" Misha says, waving his hand. "Castiel doesn't like to linger on these things unnecessarily!"
Collins tends to think the apocalypse is pretty cool, anyway. "My favorite episode this season was 'The End,'" he says, referring to the episode where Dean travels to a post-apocalyptic dystopian future. "It was kind of epic. There were a lot of cars flipped over, which for me is what good television is all about."
score here: Did Castiel start the apocalypse?
Source : LJ
Merci pour les interviews

C'est sympas d'avoir des anecdotes des acteurs
Mais de rien :

Rob Benedict talks about the season finale in https://www.youtube.com/watch?v=oSHSZ03rCPE
Also Kurt Fuller talks about losing his Con virginity in https://www.youtube.com/watch?v=EtNULgZMnWk&NR=1

(Source : LJ)
New interview... ...with Jensen, Jim and Misha.
Quotes: Jensen: "...Dean is grumpy because I get to be grumpy all day long. I've always been attracted to those kinds of characters: The reluctant hero; the hero that isn't perfect..."

THERE is definitely something supernatural about Jensen Ackles, Jared Padalecki and Misha Collins. Something that has to be seen to be believed. Something that can't be explained in earthly terms. What could it be?

Oh, that's right. They're all out-of-this-world gorgeous.

That's probably why we put up with all their demon-hunting and ghoul-slaying on the hit show Supernatural, now nearing the end of its fifth season on SingTel mio TV.

Because good triumphs over evil. And the pretties always defeat the uglies.

Take their co-star Jim Beaver as supporting evidence. While he is a very distinguished gentleman of mature age, I think we can safely say Beaver is not the chief eye candy on the set. And Ackles and Padalecki pull pranks on him every chance they get - some involving actual toe-pulling.

As Dean and Sam Winchester, not only do Ackles and Padalecki roam the countryside in search of demons let loose from the bowels of hell, they also grapple with the nuances of their fraternal relationship. Beaver plays Bobby Singer, also a demon hunter and the brothers' surrogate father since the death of their real father.

This season, Collins, who plays the angel Castiel and the brothers' ally, has been upgraded from a recurring character to a series regular. The pretties always win.

But for Ackles and Padalecki, a new challenge is on their agenda - a challenge, some would say, even scarier than battling evil: Marriage.

At the time of this interview, Padalecki was unable to be present because he'd just gotten hitched. And Ackles said that he, too, would be getting married in the summer to actress Danneel Harris.

Does that finally put the rumours of a romantic relationship between Ackles and Padalecki, goaded by racy fan fiction about Dean and Sam traversing the Internet, to rest? "I don't read it," said Ackles. "I was told about it once, and I'm like, 'I think it's better if I just ignore all that stuff altogether.' Obviously, I focus on what is actual."

Like slaying rampaging demons intent on wreaking havoc. Ugly ones.

Your show has a huge cult following. What do enamoured fans say to you?

Jim Beaver: They want to know if spooky things ever happen on the set. Well, sometimes there's like a carpenter with his butt crack showing, but that's about as spooky as it gets. They call Hollywood the Dream Factory, and we're sort of in the factory end of it.

Jensen Ackles: This is not a show, from my experience, that gets a lot of attention from young people so much as an older demographic - you know, men and women in their 30s and 40s. I get 16-year-old girls coming up to me and going, 'My mum loves you.' It's great because mums pay the bills .

Misha Collins: I actually got a letter from someone who said they had been in a bad accident - they were in the hospital - and they imagined my character, the angel, standing by their bedside, and that gave them some strength and helped them pull through. I got a few messages like that, which have been quite touching and meaningful.

Do you like to be scared by horror movies and demon-filled shows like Supernatural?

Collins: I can't watch horror movies. I get scared. I went out with a bunch of guys from college to watch the movie Se7en, and I literally had to crawl between the rows of seats and cover my ears because it was just terrifying for me. When I was catching up on Supernatural to find out what happened before my character was introduced - because I hadn't watched it previously - I would sit down in the evening and watch three or four episodes, and then have nightmares. And even now that I'm on it and have read the scripts, when I watch it, it still scares me.

Ackles: That's because he's a wimp.

What sort of pranks do you play on one another off-screen?

Beaver: I was shooting a hospital scene in the third season - a very heavy, dramatic scene - and I was in the hospital bed doing my long, dramatic speech, and Jared was at the end of the bed twisting my toes and about to break them off, and trying desperately to get me to break. Now I've got a reputation as the guy who doesn't break.

Ackles: We totally changed all of Jim's dialogue. None of the cue lines were the same, and he had to try to remember his lines without any of the cue lines. Oh, yeah. If we get an opportunity to make things difficult for Jim, we definitely take advantage of that.

Jensen, why do you like your character, Dean? It seems he's always grumpy.

Ackles: Because I get to be grumpy all day long. I've always been attracted to those kinds of characters: The reluctant hero; the hero that isn't perfect. Not the Supermans and the Captain Americas, but the Indiana Joneses, the Hans Solos, and the ones that have a little comedy when saving the girl, not always doing it in the classiest way. He's not a James Bond guy. He's going to get nicked up and bruised and shot and cut, and he's going to have a hell of a time doing it. I think that allows for a comedic aspect of what is a more dramatic character. And as an actor, I like to have comedy and drama in the same character, and Dean has lent himself to just that.

While Supernatural is about a cosmic battle, it also has very human storylines. What do you think it is about the extreme situations Sam and Dean find themselves in that let you explore such intimate relationships?

Ackles: Well, you put these average Joes into these crazy situations, and you see what a normal person would do in a not-so-normal situation. And then I think that lends itself to the dramatic aspect of the characters finding a connection with each other and with what they're dealing with. If we had a show about two guys that just drove around in a car all day and nothing happened, I don't think it would be a hit. It's a crazy situation that most people in their normal life would never experience. I think that's why people enjoy films and television.

http://www.todayonline.com/Entertainment/Television/EDC100507-0000055/Naturally-super
BuzzineNetworks' exclusive interview with Mark Pellegrino and Titus Welliver
Wednesday, 23 June 2010

Click here to watch an exclusive interview with Mark Pellegrino (Lucifer) and Titus Welliver (War) where they talk about their roles of Jacob and the Man in Black on Lost
Review of 1989's 'No Holds Barred' with Mark Pellegrino and Kurt Fuller
Thursday, 24 June 2010

Click here to read a review (and see clips) of the 1989 movie 'No Holds Barred,' which starred Hulk Hogan. Mark Pellegrino (Jacob) played the younger brother Randy and Kurt Fuller (Zachariah) played sleazy tv executive Brell.
Interview with Misha Collins, Jim Beaver w/ surprise Jensen Ackles
Friday, 30 July 2010

Click here to see an interview at the EW/SyFy party with Misha Collins and Jim Beaver with a surprise appearance by Jensen Ackles
Rebecca Murray from About.com Hollywood Movies at the 2010 San Diego Comic Con.

Jim Beaver and Misha Collins - Supernatural[Note: I don't normally leave personal shout-outs in my videos, but this one from Misha Collins is staying in because, one, he remembered our interview from a few years back and, two, my husband is a Supernatural fan also and appreciated Collins' not only remembering he shot the video but taking the time to say hi.

Misha Collins: "We talked on the carpet."

I'm a huge Supernatural freak.

Misha Collins: "You were there with your husband. He's not here now. Hi husband!"

I'm so excited it got renewed for another season.

Misha Collins: "So are we."

We were told all along it wasn't going to, so was it a shock to you guys? Did you think that they were going to keep going?

Misha Collins: "Yeah, we did."

Jim Beaver: "I did."

Misha Collins: "We thought it was going to keep going."

Jim Beaver: "I thought it was."

Misha Collins: "We both thought it was so we weren't shocked."

That's not fair because the fans were shocked.

Misha Collins: "Yeah, I know, but we don't like to be fair."

Jim Beaver: "And we don't like to be shocked."

Where are they going to take it next year? Can you say anything about where it's going? Have they even told you?

Jim Beaver: "Yeah, we can say something."

Misha Collins: "All right."

Yes?

Jim Beaver: "Oh, you want us to? Okay, it's kind of like we just finished World War II and now we've got to clean up because we were raised to clean up after ourselves. And that's kind of...there's going to be a lot of clean up and there's going to be a lot of aftermath. You don't have something like an apocalypse almost happen and everything just go utterly back to normal. So it's going to head toward normal, but it's not going to be normal."

Misha Collins: "And the balance of power between heaven and hell, it's sort of like...they likened it to post-Soviet Russia where the power elites from the Soviet Union sort of went for this power grab after the Soviet Union collapsed. It was kind of anarchy, but there's still big players involved. And there's a lot of resources that they're trying to capture, and that's sort of like the conflict that's going on between heaven and hell, and caught in between is all of... I'm just going to keep going; I'm just going to keep rolling right through it. So caught in between this..." Misha Collins: "That's a war of extension that would have happened...I don't know."

Jim Beaver: "Can you tell this guy used to work in the White House?"

Misha Collins: "Damn, derailed again! I thought I was going to make it."

[Jensen Ackles stops by to kiss his cast mates]

Misha Collins: "Hey handsome, how are you doing?"

Jensen Ackles: "Hi, there's a party inside."

Misha Collins: "Damn him."

And he interrupted your whole long monologue thing you had going.

Misha Collins: "Well it's already been interrupted already by my fellow cast mate here. The point is there's a struggle going on between heaven and hell that's not like the apocalypse but earth is still caught in the middle. And Sam and Dean are going to get wrapped into that, and monsters are a huge part..."

Wait, you just said Sam and Dean are going to get...

Misha Collins: "Not Sam and Dean. It's not Sam and Dean."

Jim Beaver: "It's not. It's not the Sam and Dean you're thinking of."

Misha Collins: "It's not. Let's just put it this way, things are not - that's what the teaser should be - things are not what they seem. Just leave it at that."

But wait, are they ever what they seem on Supernatural?

Jim Beaver: "They're even less what they seem."

Misha Collins: "They're less what they seem than ever before and that incredibly obfuscating, weird post-Soviet Russia thing that I said was so utterly confusing and without any real meaning that I think it was the perfect teaser."

It was entertaining.

Misha Collins: "Perfect teaser. But things are not what they seem."

Source : about.com

Ecrit par deanlove35

Traduction :

Rebecca Murray de About.com Hollywood Movies au Comic Con 2010 de San Diego.

Jim Beaver et Misha Collins - Supernatural [Note : Normalement je ne laisse pas d'annonces personnelles dans mes vidéos, mais celle-ci de Misha Collins reste parce que, premièrement, il s'est souvenu de notre interview d'il y a quelques temps auparavant et, deuxièmement, mon mari est un fan de Supernatural aussi et il a apprécié que Collins se soit souvenu qu'il avait tourné la vidéo mais aussi qu'il ait pris le temps de dire bonjour]

Misha Collins : On s'est parlé sur le tapis.

Je suis une grande fan de Supernatural.

Misha Collins : Vous étiez là avec votre mari. Il n'est pas là en ce moment. Salut le mari !

Je suis tellement excitée que la série ait été renouvelée pour une nouvelle saison.

Misha Collins : Nous aussi.

On nous a répété que ça n'allait pas arriver, alors est-ce que ce fut une surprise pour vous ? Vous pensiez qu'ils allaient continuer ?

Misha Collins : Oui nous le pensions.

Jim Beaver : Je le pensais.

Misha Collins : Nous pensions que ça allait continuer.

Jim Beaver : Je le pensais aussi.

Misha Collins : Nous le pensions tout les deux, donc nous n'étions pas surpris.

C'est pas juste parce que les fans étaient surpris.

Misha Collins : Oui, je sais, mais nous n'aimons pas être juste.

Jim Beaver : Et nous n'aimons pas être surpris.

Quelle direction ça va prendre l'année prochaine ? Pouvez-vous nous dire quoique ce soit à ce propos ? Vous en ont-ils seulement parlé ?

Jim Beaver : Oui, nous pouvons dire quelque chose.

Misha Collins : Très bien.

Oui ?

Jim Beaver : Oh, vous voulez qu'on vous le dise ? Ok, c'est comme si la Seconde Guerre Mondiale venait juste de se terminer et maintenant, nous devons faire le ménage parce que nous avons été entraînés à faire le ménage après notre passage. Et c'est un peu comme... il va y avoir beaucoup de nettoyage et beaucoup de conséquences. Vous ne pouvez pas avoir failli vivre l'apocalypse et après voir les choses redevenir de suite normales. Ca semblera normal, mais ça ne le sera pas.

Misha Collins : Et la balance du pouvoir entre le paradis et l'enfer, c'est un peu comme... ils comparent ça à la Russie post-soviétique où les élites du pouvoir de l'Union Soviétique cherchait à reprendre le pouvoir après que l'Union Soviétique fut démantelée. C'était un peu comme l'anarchie, mais il y a toujours de gros poissons impliqués. Et il y a beaucoup de ressources qu'ils cherchent à s'accaparer, et c'est un peu comme si le conflit entre le paradis et l'enfer, et pris entre est tout.... Je vais continuer, je vais m'en sortir. Donc pris entre ce... Il y a une guerre de conquête qui devrait arriver... Je ne sais pas.

Jim Beaver : Vous pourriez dire que ce gars a travaillé à la Maison Blanche ?

Misha Collins : Mince, j'ai encore déraillé ! Je pensais que j'allais y arriver.

[Jensen Ackles s'arrête pour embrasser ses collègues]

Misha Collins : Hey beau gosse, comment ça va ?

Jensen Ackles : Salut, c'est la fête à l'intérieur.

Misha Collins : Qu'il aille se faire voir.

Et il a interrompu ton long monologue que tu étais en train de réciter.

Misha Collins : Et bien, ça a déjà été interrompu par mon collègue ici présent. Le fait est qu'il y a un combat entre le paradis et l'enfer, qui n'est pas comme l'Apocalypse mais la Terre est toujours prise entre les deux. Et Sam et Dean vont être piégés dans cette bataille, et les monstres sont une grande part...

Attend, tu viens juste de dire que Sam et Dean vont être...

Misha Collins : Pas Sam et Dean. Ce n'est pas Sam et Dean.

Jim Beaver : Ce n'est pas ça. Ce n'est pas les Sam et Dean auxquels vous pensez.

Misha Collins : Ce n'est pas ça. Disons que, les choses ne sont pas - ça devrait être l'accroche- les choses ne sont pas ce qu'elles semblent être. Restons-en là.

Mais attend, sont-elles jamais ce qu'elles semblent être dans Supernatural ?

Jim Beaver : Elles sont même moins que ce qu'elles semblent être.

Misha Collins : Elles sont moins que ça même avant cette étrange idée de la Russie post-soviétique incroyablement dissimulée dont j'ai parlé qui était tellement confuse et sans réel sens que je pense que c'était la parfaite accroche.

C'était divertissant.

Misha Collins : Parfaite accroche. Mais les choses ne sont pas ce qu'elles semblent être.

Source : about.com

Traduction par deanlove35.
MTV and EW Interview With Mark Sheppard and Misha Collins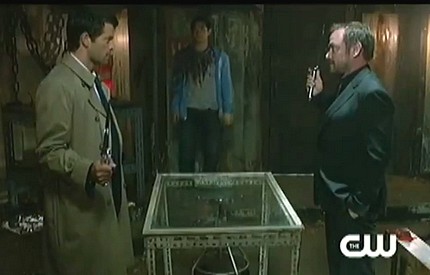 Mark Sheppard and Misha Collins were interviewed by MTV and EW. Be aware of the Spoilers : MTV Interview : Thanks to OwnMeJustForTheNight EW Interview Thanks to LobsterJohnson413. Comments ... 
Read More

---
Permission de ce forum:
Vous
ne pouvez pas
répondre aux sujets dans ce forum