Jensen, Jared and Supernatural nominated for Teen Choice Awards www.winchesterbros.com
Supernatural and its cast nominated for Teen Choice Awards

Wednesday, 22 May 2013 08:32

The Teen Choice Awards announced their nominations today and Supernatural and its cast are nominated. You can vote at http://www.teenchoiceawards.com/
Adrianne Palicki (Supernatural's Jessica Moore) is nominated for Choice Movie Actress : Action
Supernatural is nominated for Choice Television Show : Fantasy/SciFi
Jensen Ackles and Jared Padalecki are nominated for Choice TV Actor : Fantasy/SciFi
Katie Cassidy is nominated for Choice TV Actress : Fantasy/SciFi
The Teen Choice Award nominations
FIRST WAVE OF "TEEN CHOICE 2013" NOMINEES ANNOUNCED

Vote for Your Favorite Nominees Online at www.teenchoiceawards.com
Special Airs Sunday, August 11, LIVE on FOX
TEEN CHOICE 2013 will once again break into summer and celebrate the hottest teen icons in television, music, film, sports, fashion, comedy and the web in the choicest, star-studded two-hour event airing live Sunday, August 11 (8:00-10:00 PM ET live/PT tape-delayed) on FOX. "The Twilight Saga : Breaking Dawn - Part 2" leads the TEEN CHOICE 2013 nominees with seven nominations.
Starting today, fans ages 13-19 can vote once each day per category for their favorite TEEN CHOICE 2013 "Wave One" nominees at www.teenchoiceawards.com. Host(s), performers, presenters and additional nominees will be announced soon.

Choice TV Show : Fantasy/Sci-Fi
"Arrow"
"Beauty and The Beast"
"Once Upon a Time"
"Supernatural"
"The Vampire Diaries"

Choice TV Actor : Fantasy/Sci-Fi
Jensen Ackles, "Supernatural"
Stephen Amell, "Arrow"
Jared Padalecki, "Supernatural"
Ian Somerhalder, "The Vampire Diaries"
Paul Wesley, "The Vampire Diaries"
'Supernatural', Jared Padalecki and Jensen Ackles Nominated for 2013 Teen Choice Awards!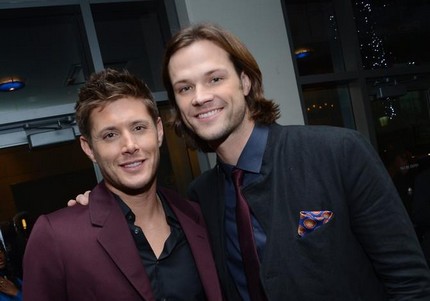 Posted On 24 May 2013 By Shaula
TEEN CHOICE announced the Nominees for their 2013 award. Supernatural, Jared Padalecki and Jensen Ackles are part of the list. You can vote and support Supernatural and the actors HERE. The partial Press Release of the event : TEEN CHOICE 2013 will celebrate the hottest teen icons in film, television, music, sports and ... Read More
---
Permission de ce forum:
Vous
ne pouvez pas
répondre aux sujets dans ce forum